Cedrela Eco Lodge
Come close to the cloudy forest and experience a perfect getaway for a regenerating break at one with nature. Here you are surrounded by serenity and tranquility. Our goal is that you feel the nature, the silence, warmth and cold and a sense of enjoyment.
Remote, Refined, Remarkable.
Our People
Our People
Cedrela EcoLodge is a family run hotel. We are from Santa María, the nearest town to Copey. In 2013, our family decided to share this magical place full of nature and tranquility with people from all over the world, turning our farm into a touristic project as well. Since our family produced coffee and avocado, we saw tourism as a way to diversify our economy and contribute to the sustainable development of our community.

Our Promise
Our Promise
Since we truly believe that nature and tranquility are essential in our lives for our wellbeing. Here at Cedrela, people can have the opportunity to truly connect with their surroundings. That is why, our promise is to share this piece of precious land and to use our natural resources in an environmentally sustainable manner. Everyday we strive to build a resilient economy based on tourism and agriculture through our project.

What Makes Us Stand Out
At Cedrela we want to show the authenticity of our area; the great connection we have with the earth, which we take advantage of and preserve, value and care for. The opportunity to connect and to be able to communicate is what we want to show our visitors, the essence of who we are, what has motivated us to seek this tranquility and magical peace. Peace that can be found in every corner of the property, that gives us the possibility of connecting with those around us and feeling alive, close to nature.
Where are we?
In Dota, you can find the district of Copey, where the Lodge its located. This is characterized by being a district with extensive vegetation. According to the Holdridge Life Zones, the premontane forest (1000-2000 m s. n. n.) and the montane forest (2000-3000 m s. n. m.) can be found in this area. This type of vegetation corresponds to the Cloud Forest of the Cordillera de Talamanca in Costa Rica. Due to these diverse characteristics, the district is home to about 60% of the protected wildlife areas of Los Santos. Within the areas, are the Los Quetzales National Park, Los Santos Forest Reserve and Las Vueltas Biological Reserve. In addition, the canton of Dota is within the Savegre Biosphere Reserve, which is an international category of conservation by UNESCO. Cedrela, located in Copey, is 1900 m s. n. m., in a strip of altitudinal vegetation where the premontane forest (1000–2000 m) and the montane forest (2000–3000 m) limit. In our reserve, oaks (Quercus spp.) are the arboreal species that dominate the landscape. However, a wide variety of species can be found from medium and high elevations that increase the diversity of the site.
Plan de Desarrollo Turístico Zona de Los Santos. Cantones de Tarrazú, Dota, León
Cortés. Provincia de San José. ICT 2012-2016. Available at:
https://www.ict.go.cr/es/documentos-institucionales/plan-nacional-y-planes-generales/planes-generales-por-unidad-de-planeamiento/valle-central/sector-zona-de-los-santos/documentos-2/128-pgut-sector-zona-de-los-santos/file.html
La vegetación de Costa Rica: Su diversidad, estado actual de conservación y su potencial para el desarrollo de Costa Rica. Por Luis A. Fournier. Available at: http://www.mag.go.cr/congreso_agronomico_ix/A01-1277-16.pdf
La UNESCO declaró a Savegre como nueva reserva de la biosfera para Costa Rica. Gobierno de Costa Rica. Available at:
https://www.presidencia.go.cr/comunicados/2017/07/la-unesco-declaro-a-savegre-como-nueva-reserva-de-la-biofera-para-costa-rica/
Fresh locally
produced meals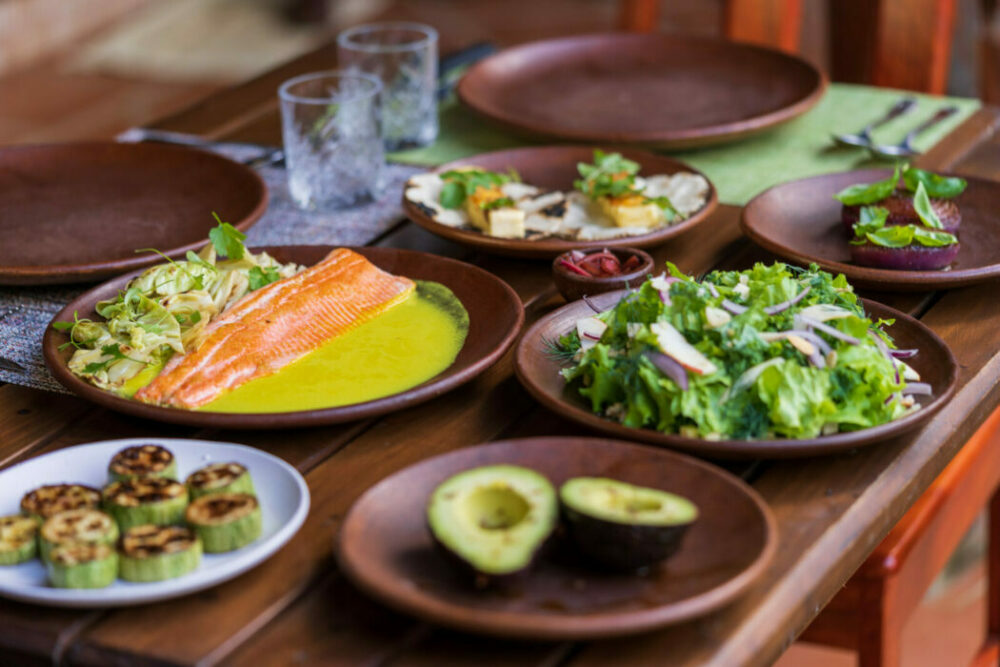 Restaurant
Garden Herbs
Water from our springs
Our own Coffee
Products from the farm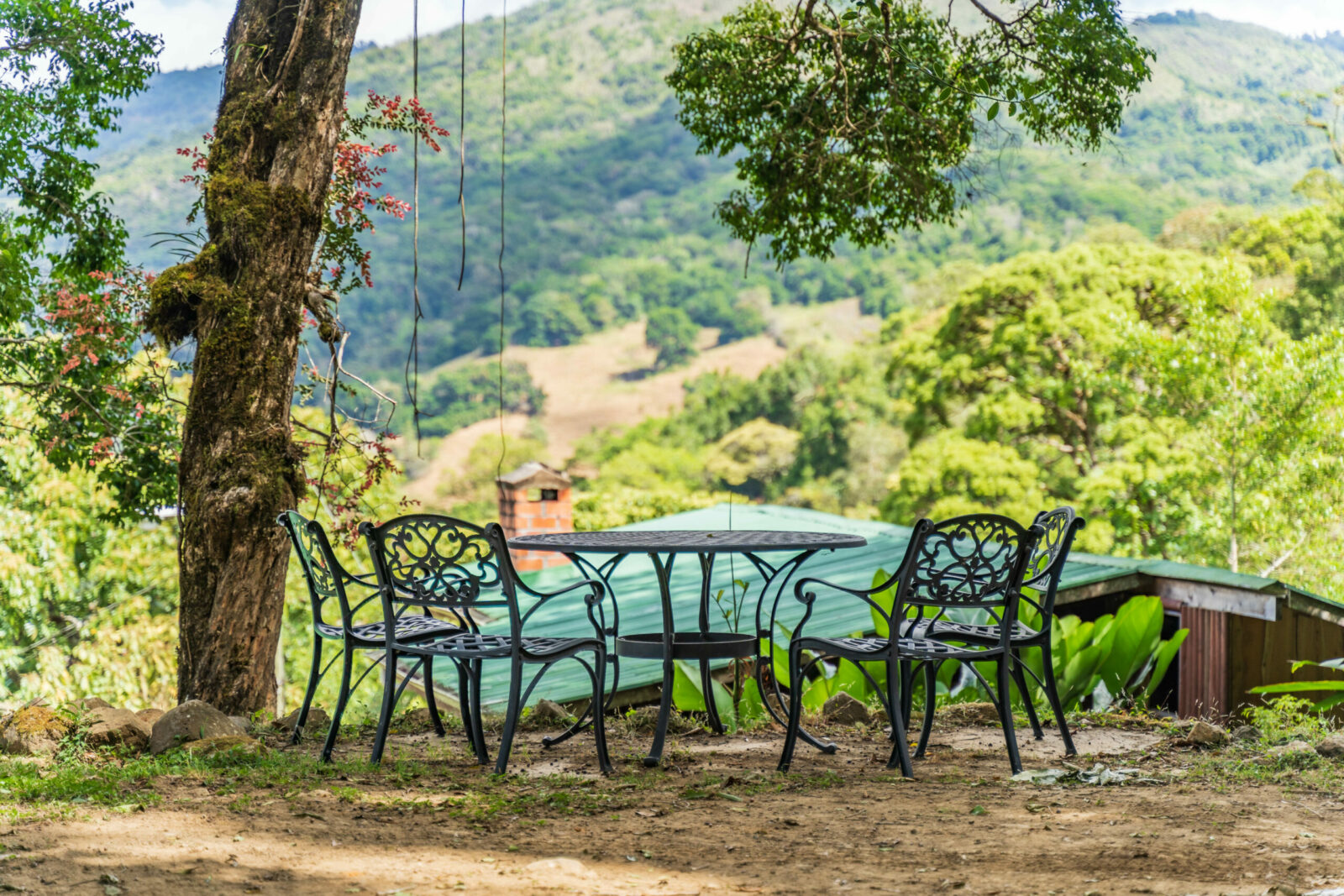 Cloudy forest
Close to nature
Craftsman furniture
Mountain view
Terrace
Garden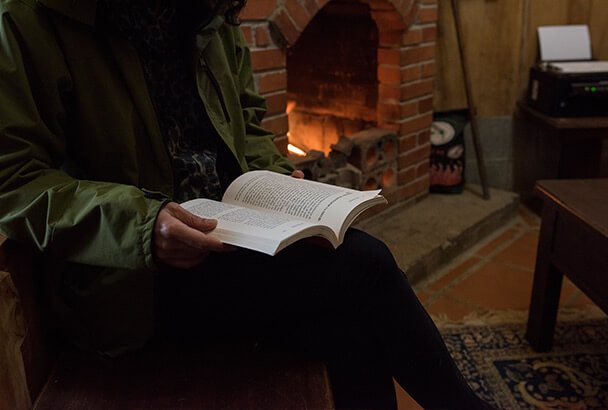 Simplicity
View of the mountains s
Resting place
Open spaces
Surrounded by nature
Privacy
Free Wi-Fi available only in public areas.
Private parking
"This place is, without a doubt, one of the best places I've booked here so far. Location is amazing, the view from the room was priceless. At night, the place is so quiet that you can sit outside your room to see the stars. Food? Uff, it was great. If you go there, don't miss the dessert; there is a strawberry & basil ice cream that I hope you love as I did. The room was comfortable and clean. If you like to walk, this ecolodge has a beautiful trail to enjoy the forest and hear some birds singing. I can't forget talking about the staff as they were very friendly and attentive. Brutus, the dog, loves catching sticks if you throw them far away. He's a lovely dog. 🙂 I hope this review helps you to make a good decision by visiting this place. I will, for sure, go back again!"
Verónica
Costa Rica
Stayed in: Villa, March 2019
"Beautiful cozy setting in the mountains. We slept here on the way from the Pacific to the Caribbean coast. Definitely recommended! It is a very nice hotel and the cabins have lots of space. The food served in the restaurant is really fantastic (best we have had in 3 weeks costa rica). The staff was very friendly and helpful. On departure we got a flat tire and because of their help we were on our way in no time. Finally, the Quetzal is also in this area and tours are arranged from the hotel."
Ramses
Netherlands
Stayed in: Family Bungalow, April 2019
Fantastic place, highly recommended
"Wonderful stay here, beautiful scenery, good rooms, peaceful, really helpful staff answered all our questions and did everything to make our stay enjoyable, the best food we had in Costa Rica, lovely walks through the coffee farm, and organized a personal quetzal tour!"
James
United Kingdom
Stayed in: Double Room, February 2020